Use visual matrix for Outlook tasks
Have you noticed that inspite the fact that Outlook is a rather common organizer, we still use so many post-it paper all over our house and office, sometimes use whiteboard or the white surface of the fridge to pull our ideas together or not to forget something?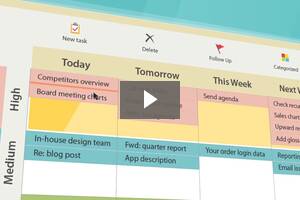 It's because we analyze information better when it is presented visually – simply our thought works quicker. From this point of view, lists of tasks are ok when you start completing them, yet planning is better done on visual models. That is one of the reasons TaskCracker boosts our productivity and saves time on daily and weekly planning: that is a simple add-in that expands your Outlook features and takes it to a new level.
Use productivity techniques
Basically all our blog is about productivity techniques that you can apply to your Outlook tasks, and our product is based on the best working productivity techniques that we chose for their practical point: in our older posts, you can learn more about GTD and Urgent\Important matrix. When applied to Outlook tasks, they save time on planning and help you focus on achieving your goals rather than just doing something, which, sometimes can be contre-productive. Urgent-Important matrix itself is a visual method that is realized in TaskCracker, so you can apply it right away – even in case, and especially, if your task list is currently rather busy.
Send emails to tasks
Another productivity technique that we have already spoken of in our previous posts is Inbox Zero, which simply demands from you to keep your inbox empty. This is the basic principal of the Inbox Zero technique – re-reading emails and deciding again what to do with them takes additional time which could be put into work instead of this non-profitable activity. Statistically, 90% respondents delete 40% of emails they receive – that is non-important correspondence that doesn't push you to action. Other emails can be answered right away, while the important emails that contain activity-starters can be sent to Outlook tasks and then prioritized visually. This way, you can clean your inbox and focus on your daily activity.
Work smarter, not harder
Smarter, amongst other possible ways to achieve it, means using technical advantages to work less and do more. Whenever it happens so that you are being busy all day doing things and yet you don't see results of your efforts, then, probably, you are not applying this rule. For example, in case your Outlook planning takes you more than a couple of hours each week, in total, or your current to-do list is overwhelmed with unprioritized tasks, and all of them are important and urgent, this may happen because the list view doesn't give you the prospective of how you can prioritize your schedule better. The visual matrix comes to the rescue in this case: you can drag and drop your tasks within quadrants, where each one is color-coded and makes the priorities transparent which gives you more advantage rather than a single to-do list marked with simple "do now" flags.
The Agile way to do more in less time
Is a hint we borrowed from the Agile methodology. Agile, amongst other time management methods, is a whole group of techniques that was born in the IT circles for such a complex area as project management and it has proven to be efficient in large IT companies. One of Agile principals, the Rule of 3, can be explained rather simply: split your goals for the day, the week and the year in threes; make 3 achievements during the day. This way, the achievements are easier to track and, basically, easier to track. You can fully apply this method in your Outlook visual matrix as you can simply place 3 most important things to do today and this week in the relevant quadrants. Agile has more tricks that we can use daily – and that we are going to speak of more in our blog.
Mark, independant marketing guru

Being a big fan of personal productivity tools, Mark is using TaskCracker for Outlook to manage his tasks every day.