The great book dedicated to task management and named First Things First appeared in 1994. It was made in a self-help format by famous Stephen Covey in association with A.Roger and Rebecca R. Merill. Since then the book has become some kind of technology cult for knowledge workers, not only in management and IT industry, but in many areas of work and personal activity. The principles, which are perfectly described in this book, help our team every day in development of our product and improving of our holistic work-life balance. That is why we gladly share our experience in this post and welcome you to join us in a better-productivity lifestyle.
First thing first is a kind of habit which helps to act in an effective way by the meaning of concentrating on what is really important, and consciously controlling the result of personal activity. Being a habit, it's performed naturally, incorporated in the way we act, which makes us proactive. This book is a great sequel of "The 7 Habits of highly important people" which also speaks of best time and task management habits.
1. The four-quadrant matrix for importance and urgency
"The key is not to prioritize what's on your schedule, but to schedule your priorities."
— Stephen Covey
Urgent\Important matrix is a framework that helps put in the first place the tasks that contribute to long-term goals. It only sounds easy, while we often are too busy with work that seems to be urgent but at a longer period they turn out to be at least not that important, sometimes even only time-consuming and not productive at all.
The matrix is as simple as a 2×2 table which differentiates tasks according two parameters: non/urgent on one axis, and non/important on the other one. It is the second quadrant of the matrix that contains important but not urgent tasks that are often neglected yet it is exactly the tasks that move you forward to your goals. After you fill in this quadrant, you can set smaller goals and put related tasks on your schedule: from now on, the schedule will work for you, and this is probably the biggest step to your productivity that helps you keeping holistic life balance.
2. Moving beyond "urgency"
"Each role ties into your long-term goals. Each role has weekly/daily activities that you can perform to get you closer to the long-term goals."
— Stephen Covey
Stephen Covey's method demands that you should determine the major roles you have in your life – this helps you to sharpen your goals. The roles are limited to 7 yet their variety is totally up to you. For example it can be:
Family
Work
House owner
Friend
Entrepreneur
Personal Development
Sharpen the Saw (improving your wellness)
The roles you set can be changed with time, what remains stable is the way you articulate your goals depending on the roles you set. This help you focus. A weekly plan for each role needs to be chosen from important yet not urgent set of tasks that you carefully think over before you start your week. Thanks to the right goal setting, you change the whole approach to how you do things: when moving forward, instead looking at your watch, you relate to your roles and fulfill your goals, and that what makes you focus on what is important for you.
3. Delegate
"Most of us spend too much time on what is urgent and not enough time on what is important."
— Stephen Covey
Delegation does not mean that you have somebody doing what you should do. On the contrary, that is one of ways to save more time for important things, and avoid micromanagement – one of powerful time-wasters that often devours our time severely. This tip is mostly used at the office, at work, yet it can also be applied within a family. Delegation means that instead of solving a problem, you simply demand to solve it to those who are responsible for that but you don't say how it should be done – your work mate should be professional enough, especially if we speak of knowledge workers, to fill the tasks on their own.
Moreover, explaining how to do this or that takes time and, at the same time, that does not guarantee that your solution is the best. It can turn out to be that a better solution can be found while the task is being done. If your work mate needs advice, they will come for it, anyways, so delegation never means lack of responsibility from your part. So basically, this is one of key principals of successful management and collaboration.
4. Be proactive
"The key to being proactive is remembering that between stimulus and response there is a space."
— Stephen Covey
Sure that this habit of highly successful people works better when combined with other habits. This one is rather simple: you can always take your time and think it over, what steps you are going to take next. Basically, your weekly plan that you draw at the beginning of each week is a part of your being proactive as you exactly make a pause and think.
To a larger extent, this time management advice has huge psychological impact. Each time your make a pause between a stimulus before you respond, you can take a look at yourself from outside, which helps to asset better what you're doing and where you are, and what next step is going to lead you to more favorable consequences.
5. Begin with the End in Mind
"Live out of your imagination, not your history."
— Stephen Covey
The effort you put into achieving your better proactivity should be coupled with a touch of your imagination, as a vital power of your growth, in all aspects of life, including your everyday activity and goal setting. Just imagine, that when all of your goals are achieved, where you are. Now, in your imagination, take a look behind on what you've done to come where you are. Use this experience to improve your list of smaller goals as well as everyday tasks.
6. Sharpen the Saw
"I am not a product of my circumstances. I am a product of my decisions."
— Stephen Covey
Ironically, one of greatest time and tasks management tips of all times is aimed at fighting workaholic habits which turn out to be, surprisingly, counterproductive.
In his book, Stephen Covey tells a story of a man who has been trying to saw a tree for many hours and he was exhausted. Surely, he could take some time and sharpen the saw, yet when suggested to do so, he refuses: he's too busy sawing the tree so he doesn't have time to sharpen the tool he is trying to work with.
Basically, this tip is aimed at better goal-setting and prevents you from omitting tasks that help you 'sharpen the saw' – or, in other words, make a contribution into yourself, mentally, spiritually and emotionally. Because when you are tired or depressed, doing what you do takes you much more time comparing to when you're ok. That is why the list of your roles should better always include the 'sharpening the saw' roles where you can put yoga, meditation, vacation, your hobby or anything that brings you into a great state.
7. Say "NO"
"You have to decide what your highest priorities are and have the courage—pleasantly, smilingly, non-apologetically, to say "no" to other things. And the way you do that is by having a bigger "yes" burning inside. The enemy of the "best" is often the "good."
— Stephen Covey
After you know your roles and goals, can split your tasks easily into important and distractive, after you know that your task list should always contain a contribution to yourself, it's time to reject all the tasks that used to distract you and push you away from where you wanted to be, including micromanagement, solving problems for others at your job, and putting no attention in tasks that are not urgent and not important. At the beginning you will need to check if the task deserves to be told 'no' checking it against your weekly schedule and urgent\important matrix, but soon this will become one of your habit that leads you to success.
8. Put first things first
"The main thing is to keep the main thing the main thing."
— Stephen Covey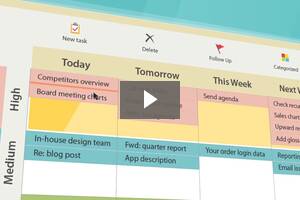 No matter how hard it is for you to say 'no' to what is not important, start your day with important tasks or tasks that reflect your important goals. First things first means that you empty your task list, complete all you had to do, including 'sharpening the saw', and only then you can do smaller things, if necessary.
Those 8 tips of prioritization can be put into life with the help of TaskCracker which was built on Stephen Covey's methodology for time management and provides you with a visual matrix integrated in your Outlook: now you can prioritize your Outlook task list in accordance with the first things first method.
Mark, independant marketing guru

Being a big fan of personal productivity tools, Mark is using TaskCracker for Outlook to manage his tasks every day.