The Urgent-Important method for task management has gained its popularity in the 90s with the publication of The Seven Habits of Highly Effective People, book by Stephen Covey. Since then it has been one of the most popular techniques that you first think of when it comes to productivity and task management. How to apply it in Microsoft Outlook?
The key idea of this method can be put rather simply: when prioritizing your tasks you need to keep in mind two things – task urgency and task importance.
The trap here is that really important tasks are rarely urgent, meanwhile urgent tasks are not necessary important.
Thus you should not spend a lot of time on urgent but not important tasks that prevent you from reaching your goals, and concentrate on really important tasks.
Those tasks help you achieve your long-term objectives. This way, you separate important things from distracting activities.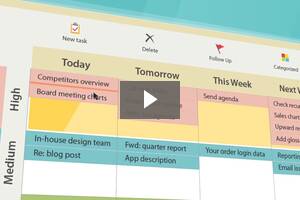 On the other hand many of us use Microsoft Outlook for email and tasks management. So our tasks are naturally already in Outlook. How to apply the Urgent-Important approach to your Outlook tasks when all you have are 3 task priorities and a to-do list?
This vital need has pushed software developers in their research to fix this situation and offer something that could really help.
One of the solutions that it based on urgent-important principle is TaskCracker: small Outlook add-in that provides users with interactive visual board where Outlook tasks can be scheduled based on Urgent-Important matrix with drag and drop ease. The visual view makes it possible to sort tasks by urgency and importance quickly, see all your workload at a glance, and manage priorities appropriately.
Free 30-day trial is available for those who are interested in applying urgent-important matrix to Outlook tasks.
Mark, independant marketing guru

Being a big fan of personal productivity tools, Mark is using TaskCracker for Outlook to manage his tasks every day.