When you search for "CRM Outlook", most often it's about Microsoft Dynamics solution that is positioned as a single system for marketing, sales and support.
The solution is undoubtedly a part of Microsoft policy aimed at breaking up its product silos that has started some time ago and resulted in Windows 8 designed to be run on all MS devices, and the appearance of Windows phone, as well as MS Surface. This way, we will be able to speak of Microsoft environment, literally, where the user can switch from one activity to another and from one device to another – who knows.
From this point of view, no surprise that users can have access to Microsoft Dynamics directly from their Outlook with the help of a special client named Microsoft Dynamics CRM for Microsoft Office Outlook which can be downloaded directly from MS website.
This CRM for Outlook client makes it possible to access MS Dynamics cloud CRM system even when you are offline.
It helps you turn an incoming email into a sales opportunity without too much manual work involved. Moreover, it gives access to MS Dynamics workflows available in just a click.
The button Solutions that leads to this tab appears in your Outlook once you install the client.
Please note the difference, that the client is only an intermediate between your online MS Dynamics CRM and your Outlook. All CRM workflows don't come with the client: you can only access CRM workflows in case you purchase MS Dynamics cloud subscription, of course.
Visual Outlook CRM Add-in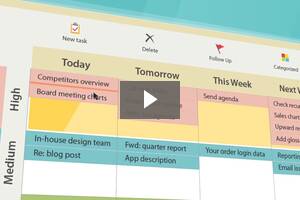 Next to Microsoft Dynamics Cient button, our users see the TaskCracker button that leads them to another special tab where their personal Outlook tasks are presented in the form of a visual matrix, no matter where the tasks come from.
Whether tasks are generated by an automatic system or assigned to yourself manually, by yourself or by somebody else, once they are on your Outlook Tasks list, they are automatically shown on the TaskCracker visual matrix as well. And here is where you can operate them with drag and drop, changing their status and deadlines visually, to optimize your workload and boost your daily and weekly productivity.
How can it be useful for your CRM purposes?
You can use TaskCracker even if you don't have Microsoft Dynamics CRM or Microsoft Dynamics CRM for Outlook
TaskCracker synchronizes with your Outlook Tasks automatically, which means less manual work: you don't have to insert your task data twice
TaskCracker makes it possible to organize your Outlook task list visually with the help of Drag&Drop or – if you use MS Surface tab – you can touch and move your tasks around the visual map
TaskCracker visual tab is build on the principles of Eisenhower matrix aimed at strategic planning of your personal activity
To sum it up, you can use TaskCracker for strategic planning of your Outlook Tasks, visually. It doesn't matter if you already use Microsoft Dynamics CRM for Outlook or not. Anyways, your client satisfaction depends on how much you can achieve each day. You can achieve more if you plan your daily and weekly activity wisely – and that is what TaskCracker Outlook add-in is good for.
Anastasia Chumakova, independant marketing guru

With more than 3 years of background in the product and project management area, she's familiar with most business optimisation systems and productivity techniques. Don't hesitate to ask your questions or provide feedback via G+ with the #TaskCracker hashtag.