This blog is a place where we have already spoken a lot about how to organise your Outlook for work projects including some GTD Outlook tools. Amongst many time management techniques we have always tried to find the best ones and put them into life. Of course, no way we can try to avoid the question: is there any ideal way to organise Outlook for GTD?
To answer this question, we should first admit, that life doesn't consist of work 100%. Even so-called workaholics find time at least for going for sports. Cognitive psychology develops the idea that if you work most of the time, it leads to accumulating stress and lowers cognitive functions – at best.
In real life it can have much worse consequences. From this point of view, you should organise work-life balance is not only a part of your wellness, it is a way to boost your productivity.
At first glance, Outlook is almost an ideal tool to organise work activity, notably. At least that is what it was designed for, yet why don't we take latest technology achievements and make it work for our own purposes?
Organise goals
If you can set goals properly for your work projects, it is quite legit to use this skill for your personal life. Are family and meaningful relationships as important to you as your business success? Set time that you are going to spend together, doing something about the house or just resting.
Probably, the best lifehack here would be not to organise this time into specific tasks: usually, your family members can easily fill your attention and suggest common activities for this period of time. At the same time you can set a determined scope of time and prioritise it along with other activities.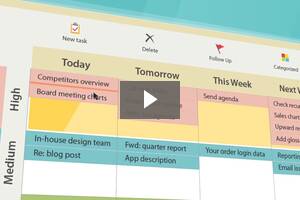 Try TaskCracker to easily prioritize your goals and avoid having competing goals. TaskCracker provides a visual way to prioritize your Outlook activities – everything that you have planned, can be seen in a form of a visual matrix and operated graphically.
This way, you can literally see what's important to you and what you spend time on. Those two things diverge rather often, so the most important thing here is to see the difference and then change the balance to the best.
You already know Outlook
Why would you use another tool for planning you personal tasks? When you have only one lifetime it proves to be counter-productive to try to organise it in different applications. Of course, MS Outlook interface looks a bit too plane, as any office application.
It lacks visual, drag and drop features. Nevertheless the situation has changed to the best with TaskCracker: it presents your task list in a form of a colourful drag and drop matrix which is pleasant both for work planning as well as planning your vacation.
When you use a single tool for work and personal planning, you can clearly see how your time is divided and track your progress as well. When your work and personal life compete, which creates a stressful situation, a visual map of your activities and priorities gives you a snapshot of what is really going on and brings you back in control of your life, in spite of the pressure and little time we have.
Urgent and Important methodology that provides one of the best ways to organise tasks and priorities is now available for Outlook as well with the help of TaskCracker.
Do your best
Whatever you start doing, do it the way you think is the best. Set your own quality standards and maintain them. This is probably the best way to keep being inspired and feel satisfaction from your achievements.
When you organise personal tasks in Outlook, along with you work tasks, you can not only control the amount of time you spend on work and life, thus monitoring your balance, you can track your achievements in your personal development as well. If you find it hard to stop and have rest, plan it in Outlook as well: put an alarm, a time limit, a deadline and treat your rest as any other task which has its own priority. The only difference from other tasks is that this one cannot be dismissed as the least important, of course.
And don't forget: you don't have to be a workaholic, try to be an achiever and track your achievements. We hope that TaskCracker visual presentation of your Outlook tasks will help you to always achieve best results according to your goals. The extension is available on all Windows devices and can be operated with drag and drop or touch.
Anastasia Chumakova, independant marketing guru

With more than 3 years of background in the product and project management area, she's familiar with most business optimisation systems and productivity techniques. Don't hesitate to ask your questions or provide feedback via G+ with the #TaskCracker hashtag.