A couple of words about David Allen's GTD method
When deciding what to start with, we all may resemble Shakespeare's Hamlet with his somehow legit doubts:
To be, or not to be: that is the question:
Whether 'tis nobler in the mind to suffer
The slings and arrows of outrageous fortune,
Or to take arms against a sea of troubles,
And by opposing end them? To die: to sleep;
No more;
Hey, surely, 'no more'! This is our choice when we speak of no more unprioritized tasks or no more missed deadlines, or no more pain in taking decisions. This is a poetic way to explain how GTD method was born as an attempt to shorten time from decision taking to productive activity.
In order to focus, GTD suggests two important steps to take:
Define your task list
Define your priorities
Start completing tasks
The third step, the activity itself, turns out to be more productive as the result of the prior planning step based on data accumulation (step 1).
Why Outlook add-ins?
Let's not forget that many of us schedule our time using email client's functionality. By saying this, in most cases, when speaking of corporate segment, we mean Microsoft products, most often Outlook 2010, 2013.
The high frequency of this application use in contemporary business resulted in a large offer of Outlook add-ins, notably GTD Outlook plugins already form a large list of software, where some of them had been developed with David Allen's direct participation.
Nevertheless, software industry tends to offer newer products due to OS renovations and updates, and emergency of new technologies that makes it possible to implement new features, like it is the case, for example of visual control with touch screen devices. This all better adapts newer getting things done Outlook add-ins to the user demand of comfort.
A couple of words about TaskCracker GTD Outlook add-in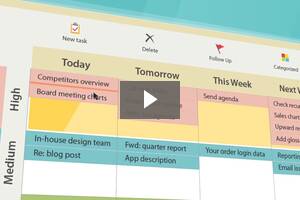 TaskCracker is one of GTD Outlook plug-ins that has appeared relatively recently. It had its time to grow mature in functionality and design, and it uses benefits of new technologies for the user satisfaction.
It is quick, neat in design, adapted to the point of seamless integration with Outlook, and it is build on GTD principles.
What can you do with TaskCracker?
This Outlook GTD add-in presents tasks in a conceptually new kind of view: visual interactivity. It is a form of a form of visual Urgent-Important matrix suggested by Stephen Covey for prioritisation purposes (2 step of GTD application).
This visual view is interactive: if you find that a task should go up or down the matrix, it's enough to move it in the appropriate matrix cell, and the task automatically gets appropriate status and deadline in Outlook, as well as relevant colour code in TaskCracker view.
You can drag and drop your task with the mouse, or you can use touch devices as well.
The visual prioritization method provided by TaskCracker Outlook GTD add-in makes it possible for you to minimize time to action, the time you need to spread your tasks over your time.
And it turns out to be really quick with the visual control, while the neat interface is rid of any kind of design complication, and it fast and debugged. That is how you save your time.
Small TaskCracker button within our Outlook becomes your little helpmate once you install the Outlook plug-in. When you hit it, you go to the visual presentation of your current Outlook tasks.
Before and After Outlook GTD setup with TaskCracker
When applying the GTD method, the first step you take is load all of your tasks in one list (step 1).
If you have already done it in Outlook, TaskCracker shows it to you on the matrix with the relevant colour code according to the priorities you have set for your tasks by that time.
As you can see, the initial situation here reveals that your work day is overloaded to the point that you need multiple you to cope with the current task list.
The issue can be resolved either by hiring more people, or by wisely spreading your workload over your time. This is what you can see in the next five minutes.
It is rather easy to notice here that the desired work-time balance is achieved in this visual presentation. Now you can switch to your normal to-do list Outlook view and start completing your tasks one by one.
At the same time we, at TaskCracker, normally keep working the visual presentation, as the neat and tidy interface makes it possible to assess the current workload situation at a glance. Besides, the application functionality is good-looking itself.
Once a pioneering Soviet aircraft designer, Andrei Tupolev, speaking of aircraft functionality, said that if an aircraft is beautiful, it flies well. Speaking of TaskCracker, it is beautiful and it 'flies' well, being quick, practical, and helpful.
Anastasia Chumakova, independant marketing guru

With more than 3 years of background in the product and project management area, she's familiar with most business optimisation systems and productivity techniques. Don't hesitate to ask your questions or provide feedback via G+ with the #TaskCracker hashtag.