Inspired by the best time management practices, TaskCracker offers visual Outlook task management features on MS Surface Pro tablets.
If you've ever tried to use Outlook on MS Surface Pro for planning, you have probably had the same question as we have: if everything has become so visual why MS Office applications, and notably Outlook, still require a keyboard and a mouse for better use?
That issue had its share at our recent scrum meetings. As the result, we now proudly present the new feature: TaskCracker now offers you the possibility to comfortably use touchscreen for visual Outlook tasks planning, notably on Surface Pro tablet.
Visual planning on touchscreen devices: how to
For those who are new to our blog, TaskCracker is a small application that presents all of your current Outlook tasks in a form of a visual matrix.
When you install the application on the tablet, it's ready and set up for work, right away. You can operate the visual matrix with a touch, simply by dropping the tasks into the necessary cell of the matrix. This way, the task automatically gets the priority and the deadline.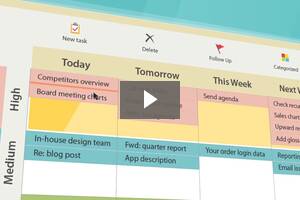 TaskCracker works on all of your Windows devices with Outlook installed. It already speeds up the process of efficient planning of your workload when you use desktop and drag and drop. Touch technology makes the planning process extremely quick and even pleasant. Coupled with the neat TaskCracker matrix design, it makes the application really pleasant to deal with, not only efficient for daily and weekly planning.
When you want to assign the priority and the deadline to the task, simply touch it and drop it in the necessary cell of TaskCracker visual matrix. Each task tab is large enough, so it is easy to manage it with a finger touch.
This way, you can plan your tasks for today, tomorrow, this week and next week, as well as handle overdue tasks. All done visually, it rises up productivity not only because the planning is done quicker than usual and because you see right away what to start with. The visual matrix is built on basic time management techniques principals.
The time management systems for Outlook touchscreen mode
Just a quick browse on the techniques you can apply on your Surface tablet with Outlook and TaskCracker with the links to our previous posts where you can find out more about each of them.
In a couple of words, GTD or Getting Things Done for Outlook, can be realized through putting all of the tasks you need on your list, then using them for building your current agenda, simply picking the tasks that are really important.
Eisenhower Matrix, the matrix that provided the basis for TaskCracker visual matrix, helps to sort out what is really important and cast aside the tasks that demand your attention yet are nothing but time wasters.
Putting First Things First with visual TaskCracker matrix is easy and quick, so you can now use this valuable technique for your Outlook planning.
Finally, Urgency\Importance Matrix for Outlook with touch screen simply requires to touch and drop the task into the necessary cell.
Anastasia Chumakova, independant marketing guru

With more than 3 years of background in the product and project management area, she's familiar with most business optimisation systems and productivity techniques. Don't hesitate to ask your questions or provide feedback via G+ with the #TaskCracker hashtag.