How to make your team members spend their time more efficiently and get things done faster? Is it possible to supervise each one's personal agenda without falling into micromanagement? Is it possible to share your time management skills with everyone on your team? The answer to the three questions above is "Yes" with the new Microsoft Outlook add-in named TaskCracker.
It's not always quite possible to convey priorities to everyone on your team. No matter what the reason is: whether you lack some communicative skills or you're simply short of time and you need the work to be done right now. We don't overestimate the necessity to communicate your general idea about your goals to your team. Anyways, you remember the song: little less conversation, little more action please. When you want your tasks to be put into action quicker, you might consider using TaskCracker for everyone on your team. This Outlook add-in is specially designed to help everyone set priorities visually and speedily.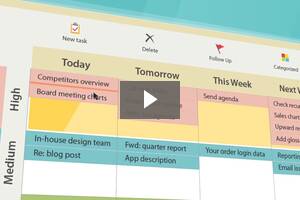 Let's face the problem: everyone on your team needs to be able to set deadlines and priorities. There are numerous task management and human capital management techniques designed to solve the problem. At the same time, a complex problem doesn't necessarily require a complicated solution. You cannot set priorities for each ones' agenda. Everybody doesn't have perfect personal time management skills and you don't have time to wait until they get some. That is why we have created TaskCracker:
It's simple – everybody can use it
It's quick – visual planning is one of the fastest ways to set deadlines and priorities
It's common – basically, just another view for your Outlook, this time visual
It's neat – visual matrix for daily tasks planning is nice to use
TaskCracker makes it possible to ensure the necessary level of visibility for you because you need to be sure that the priorities and deadlines are appointed wisely indeed and that your scheduling and timing are about to be met. It's easy with TaskCracker. The "Send Matrix" button makes it possible to share personal Outlook agenda with the manager.
Unlike Excel tables and special reporting emails, this method doesn't demand additional time to share plans: your visual task matrix is constantly in work, and it already contains your deadlines and priorities. So whenever you share it, you share the up-to-date information over your upcoming activity. This is probably one of the greatest ways to ensure visibility between the manager and the team without spending additional time of those on your team.
As a team leader you might have the question if your team accepts using the new tool. TaskCracker solves the problem for the team member: with the use of this software, you don't have to put much time into learning strategic planning. The visual TaskCracker matrix provides a quick and intuitive way of improving performance thus helping you to keep being an important and proactive player on your team, saving your efforts and time. Being a light Outlook extension, the software doesn't require learning: it's just another Outlook view for tasks. At the same time, the visual view is so comfortable and looks so cool that it's hard to resist the desire of using the software for daily planning: it brings a positive colorful note into the regular MS Outlook interface.
TaskCracker solves the problem for the team leader: help everyone contribute exactly the part of work that the project currently demands. With its great visual planning capabilities, this software helps improving timing and focusing on what really matters.
Anastasia Chumakova, independant marketing guru

With more than 3 years of background in the product and project management area, she's familiar with most business optimisation systems and productivity techniques. Don't hesitate to ask your questions or provide feedback via G+ with the #TaskCracker hashtag.