As a business owner you have thought of how you can better control processes and tasks more than once so far, no doubt. Indeed, this is fundamental both for your personal efficiency, and for the business performance. We admit the direct correlation between the two parameters is perceivable as never in case of ownership so that is what we would like to talk about today.
Surely, this doesn't mean you have to go into control-freak behavior. Being control-freak is uncontrollable obsessive-compulsive behavior itself which leads to another problem: how to control a control freak? On the contrary, expanding influence demands to delegate. Total control is counter-productive in this case. Having insight into the current state of things and using it for better planning seems to be much better strategy. What can be helpful for that?
Recent marketing research that we've based on our customer demand proves that a high rate of small business owners uses Microsoft tools, including Outlook. Most likely, you already know that you can apply different productivity techniques to your daily Outlook use. Let's take a look at one more feature that can save up to 25% of your time when planning and spreading your workload over your week.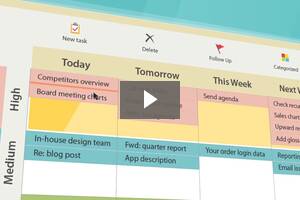 It is called visual task management for Outlook. The method is applied through the TaskCracker solution which is, in fact, a small and reasonable add-in that presents your Outlook tasks in the form of a visual matrix. The matrix is built from your task list within a couple of nanoseconds so that you feel like you have simply switched to another, visual Outlook view.
TaskCracker view allows you to spread your tasks over the visual matrix based on the principles of Eisenhower method and Steven Covey Urgent\Important quadrant. All you do is simply drag and drop your tasks around the matrix while your tasks automatically get a new deadline and importance status. You can use touch devices as well.
Now that you can see your tasks in the form of a visual matrix, you need only one glance to assess your workload for the week and bring necessary improvements into your to-do list. Eisenhower principle that forms the concept basis of the matrix contributes to quick and wise planning, making it clear which tasks are productive or distractive so that you can arrange your to-do list accordingly. This is the combination of simplicity and conceptual framework we're proud of which transforms Outlook Tasks into a strong strategic planning tool.
Amongst other benefits of TaskCracker use for Outlook planning there are the following:
TaskCracker doesn't send your tasks online to third party servers
Offline planning allowed
Your tasks remain in your Outlook, they are not converted into any other system
There are no subscription fees
There is no data export problem, typical for Cloud services when you terminate your subscription
Visual planning is 25% more quick comparing to planning with the standard textual list (according to internal test)
Learning curve for a new user is reduced to minimum due to simplified visual interface operated with drag-and-drop or touch
Try yourself and find out how quickly and easily you can plan your activity in visual Outlook view provided by TaskCracker. Click the Free trial button below to get access to your own TaskCracker for Outlook.
Anastasia Chumakova, independant marketing guru

With more than 3 years of background in the product and project management area, she's familiar with most business optimisation systems and productivity techniques. Don't hesitate to ask your questions or provide feedback via G+ with the #TaskCracker hashtag.