TaskCracker team has recently made a briefing dedicated to how we all manage time. Our company is rather small, yet we achieve all necessary goals in our project management. We have put our ideas together in order to draw a kind of strategy we use with the help of our tool. We all use Outlook so those methods can be most useful in case you do too. Here are the ideas of how we do this – we hope our experience will help you achieve more in less time – the main purpose that TaskCracker is designed for.
Personal Project Management includes all aspects of life
If you start working today without having focused on what is important, you end up with no substantial achievements by the end of the day. Avoid unproductive days by setting goals first.
Here are the goals we have for ourselves:
Families and friends
Business
Health and personal development
First conclusion we all came to: you cannot spend 100% of your time on your project (see GTD, Sharpen the Saw) – it is simply inhuman. Workaholism is a dangerous kind of escapism: if you don't pay attention to all aspects of your life, they don't develop and thus tend to collapse in force-majeure situations that significantly interrupt your business planning and focusing, sooner or later.
Thus, for us, a successful safe-made lifestyle includes leading both your project and your personal life to success: those two to-do lists are a homogeneous. Your projects cannot compete, so you will want to set goals and reserve time for everything, from the very beginning.
How to focus
Weekly priorities
Set goals for each of your weekday. This depends on the activity you perform. Anyways, the weekly goals help you keep focused when you build your today to-do list with conformity to your goals. For example:
Monday – Routine work tasks
Tuesday – Business benchmarking
Thursday – Education
Wednesday – Blog management
Friday – Talent management
Saturday, Saturday – Family and friends
Manage your daily priorities with a visual task board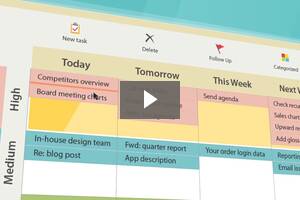 Your day will end up with achievements if you start with strong planning. We use Outlook. On itself, it is a project management tool thanks to its planning feature.
Yet the right application of those tools and the real project management in Outlook starts with the right methodology. We also use TaskCracker Outlook project management add-in.
Building your agenda takes about 15 mins in the morning and the result has to be always in conformity with the goal you set for this weekday (see above).
Here's how it works:
Today: check your today task list. You are going to extend and optimize it.
Upcoming: drag tasks relevant to today's goal into the Today section
Overdue: it's better to keep this part of your table always empty. Clean it from the tasks that you have already completed and that got there automatically, drag important tasks for today and consider removing forever overdue low-importance tasks.
Prioritize today: put the most important on top. Visual matrix makes it quick. When you are done prioritizing, the bottom cell reveals today-low-priority tasks. 2-3 of them are to be removed from the agenda for today.
Meetings: keep them short yet still put them on your agenda as, for a self-made entrepreneur a whole day sometimes can be built out of meetings. Treating them like ordinary tasks helps to focus on goals instead of wasting time on chatting.
Calendar: Is there anything that should be done today? Put it on the list.
Email: as it makes you focus on the world around you, the world that offers you competing activities that are pulling at your attention, start your day from yourself and your goals. Only then open your inbox, apply Zero Inbox and drop tasks that you create out of important emails to your upcoming tasks section. The least luckily should they go to your today agenda.
This kind of activity takes all of us about one hour and then we're ready to start working. Instead, we came to the conclusion that before going deeply into work, it's better to have some rest between planning and execution. Take your time, have a shower, a good breakfast, walk the dog. Your day is prepared, it will be focused and – most important – it will move you one step forward to your goal. Have a break.
Completing the to-do's
Now you know what to do, so you can simply consider hours of work you spend. It does not really matter how long your workday is, it is about how productive it is. It becomes productive when you know what you are doing once you start working. This excludes idle time from your activity: time to get to know what to start with, time to decide if you should do this or that, time to hesitate – the moments when you are the most vulnerable to being distracted and start doing something unimportant and finish your day with no positive income at all.
Always finish your day with a sense of accomplishment! And try your best to finish it early. Remember: The successful one-man-show professional is not the one who works the long hours, it's the one who make the most out of their working time.
Flexibility
Don't forget about pause mode: a set schedule is not for the whole 7 days at all. House maintenance, family and friends are not a matter of strict scheduling – it's just a matter of living your life. Important: don't get sucked into your work! For days off, forget that you have a laptop at all. If possible, leave your smartphone elsewhere.
It's not only natural and helps you build meaningful relationships with people. Recent psychological researches have proven that this way you boost your creativity that prospers in the 'in-between' periods when you are having rest after wok. Thus, a well-established work-life balance contributes to your productivity.
Do you use TaskCracker add-in for Outlook project management? How do you establish your work-life balance? You are welcome to share your personal project management ideas with us.
Anastasia Chumakova, independant marketing guru

With more than 3 years of background in the product and project management area, she's familiar with most business optimisation systems and productivity techniques. Don't hesitate to ask your questions or provide feedback via G+ with the #TaskCracker hashtag.