If you already enjoy the advantages of Microsoft Office, most likely you already do all your planning in Outlook so our tips and tricks are right for you today. Do you sometimes fail to timely complete the task list you have created for yourself In Outlook? Do not get upset if you do. Even mature professionals experience this kind of trouble from time to time. Check those statements:
I have a lot of tasks in my to-do list, I don't know how to meet the deadlines for all of them
Sometimes I have emergency rush with my tasks
Sometimes I have to work late at night to get everything done on time
I am constantly doing something yet often fall behind schedule
I start doing something, and it's only by the end of the day that I remember I forgot to do something important
If you find at least 2 out of 5 statements true for yourself, your time management and goal setting skills need help. And it is the case for most of us. Indeed, we want to do everything right here right now. If we cannot do this, it can lead to frustration. So how can we benefit from this natural situation? Please welcome the top 5 most efficient time management techniques chosen by TaskCracker team members:
Eisenhower matrix: helps sort tasks by importance and start by the tasks which should be done, so that you do not find yourself with something important left forgotten by the end of the day
GTD – Getting things done. One of the leading and most known time management methods that helps focus on what needs to be done and beat procrastination down
Urgency-Importance matrix: another method to find real priority and not to spread attention on what only seems to be important, when in fact it is not
Inbox Zero: quick email sorting method that operates 5 parameters for incoming emails. Beats one of the biggest problems of all business people: statistically we unproductively spend 48% of our work time stuck in the inbox
TaskCracker – small Outlook add-in that has huge impact on Outlook usability and your own productivity. Puts the four methods above into life with Outlook tasks in the form of a colorful drag and drop matrix (or touch if you use Surface)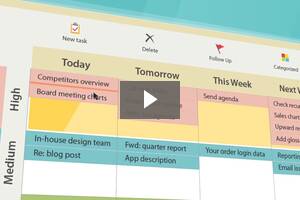 Let's admit it: Outlook interface is not similar to the applications we usually use on devices: tablets and suchlike. Where are colors, touch and drag and drop options, visualization? Sue that this style is typical for corporate applications, yet it's quite possible for you to bring some personality touch.
So the tips of the day is: plan and manage your work activity in Outlook with the visual add-in that makes it more productive and more comfortable to use. The download link is placed on the button below and leads to the free 30-day trial. The add-in runs on all types of Outlook, including Outlook 2010.
Share with us your tips and tricks of how you productively organize your work in Outlook 2010: your advice is welcome on @TaskCracker. We will then pick the advice that gets most of retweets and reward its author with a lifetime license key for TaskCracker on the 18 of March 2014.
Anastasia Chumakova, independant marketing guru

With more than 3 years of background in the product and project management area, she's familiar with most business optimisation systems and productivity techniques. Don't hesitate to ask your questions or provide feedback via G+ with the #TaskCracker hashtag.