Project management is all about people and collaboration. However, efficient collaboration demands from you to be perfectly organized and see it clear why you are doing this or that right now, what goal you are moving towards when busy with each specific piece of activity. Consider your life as a project, your time as your most valuable resource, and you will find yourself using Outlook as your own project management and personal productivity tool.
Resource management: time is your most valuable asset
It's easy to get lost in endless to-dos. An efficient project management would use time management techniques to complete tasks. The rules are simple: avoid multitasking at your best, prevent procrastination. Do one thing at a time. Set a 30-min period to finish a specific task, then have a 5 minutes break and start the next task. Basically, that is Getting Things Done, one of the most famous personal productivity techniques. It helps focus on what you do and avoid procrastination. This way, one step at a time, you find yourself with a lot of things done by the end of the day.
Project management uses Gantt charts as a visual tool for planning and tracking project progress. Why don't you prioritize your task list visually as well? Personal tasks are usually prioritized with the help of another chart also called Eisenhower matrix where you place your tasks in different quadrants of the matrix according to how important and how urgent each task is. You can have a visual matrix view for your Outlook tasks with TaskCracker: move around your tasks with drag and drop and see if you plan your time efficiently over the week.
Clear goals: tasks priorities
Project management is about setting goals first. Take your to-do list critically: why do you have to do this? You won't answer this question until you know your goals. And then, give high priority to the tasks that move you to your goal. You can have at least two projects at a time: business and life. Your business is to achieve certain KPIs. Are your tasks helping you to achieve them? Say no to what's not helping you: simply don't do it and switch to a task with higher priority. Each project has its own goals and its own tasks, yet all of them find their place on your single task list. With clear goals and well-thought priorities, you find yourself where you wanted to be after the tasks are done.
Execution: personal productivity management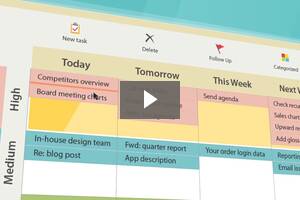 Avoid distracting activities: if answering emails takes you much time and you simply can't go to your main activities until you answer all of the incoming emails, you're simply not productive. Set filters for incoming messages, unsubscribe from mailing lists that distract you, use Inbox Zero time management technique.
Set the 2-minutes rule for your email. When you send an email to your task list and it becomes a task, you can manage it with TaskCracker as well as all of your other tasks, visually setting priorities. Just simply don't collect emails in your inbox: each email is to push you to action, and your each action is to push you forward to your goals.
Mark, independant marketing guru

Being a big fan of personal productivity tools, Mark is using TaskCracker for Outlook to manage his tasks every day.