Even though the Internet is invaded with blog entries and online articles dedicated to project management in Outlook, professionals often doubt it that it is possible to deal with project management as a team tool related to Outlook as a personal management tool in the complete sense of the term. Nevertheless, personal project management skills can hugely save time and help reach goals when it comes to goal-setting, planning and executing.
Does your task list reflect your goals?
When approaching your personal task-list from this point of view, you face a problem that Outlook provides a number of pre-defined and customizable views which are basically tables while visual representation of daily and weekly tasks could hugely help with planning.
Key point in planning is to see that the things you've put on your list are moving you to your goals inside your project. While random list can be busy 100% leaving you no time for normal work-life balance, if your occupation doesn't match the goal you want to meet at the end of your project term, you simply stuck in your daily routine. That is what a project management teaches to avoid, at the same time it is not always easy to prioritize your to-do list when it is long and becomes heavy enough so that you cannot see it at a glance even with your largest screen.
Visual task view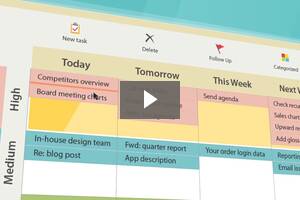 TaskCracker Matrix is based on the famous Eisenhower matrix and Covey's Urgent\Important matrix which have a lot in common. The matrix contains quadrants for high, medium and low priority tasks (as it is in Outlook functionality), along with quadrants for today, tomorrow, and the next week activity, accompanied with quadrants for overdue tasks, and tasks which don't have priorities yet – they are simply delayed for the next week. Moving tasks around with mouse, I can place them in the relevant quadrant.
Visually, with color-coded quadrants, I can see my workload for this week and quickly check if the tasks I've placed in the high and medium priority quadrants meet my project goals. If not, they are moved down to the low priority quadrant, and even sometimes moved to the right, closer to next week quadrant which relates to the least urgent and the least important quadrant on Eisenhower or Covey's matrix.
Case management
Plans need to be easy to correct, as not of my project activity can be planned in detail, I can have some cases that are hard to manage due to their unpredictable nature, so I need to be able to quickly correct my project plans. When you need to re-prioritize your Outlook task list or to-do list, there is an option to open each item and re-set its deadline and priority. Which I basically hate because it takes me time and clicks, clicks, clicks. Not having time to do so, in search of a better solution I adopted TaskCracker which makes it possible to move tasks around on my schedule with its drag&drop interface. As the result, as soon as I place a task in the appropriate quadrant of TaskCracker Matrix, it automatically gets a new deadline and a new priority. This option has already saved me about 40 minutes last week, and by the end of the month, if I keep using the software, it is going to result in at least 2.5 hours that are going to be freed from the routing and put into executing my project tasks.
Risk Management
Visual re-planning enables to see my workload at a single glance and helps to re-thing my plans more productively. Of course, there might be situation that couldn't foresee and may demand my attention. I count this possible time in my plan to be able to deliver all of my weekly tasks on time. At the same time, if an unforeseen situation doesn't occur, I use this time for completing more tasks. TaskCracker has place for tasks without due dates in the right side of its matrix, the side that visually attracts the least attention, yet gives the idea of what else could be done when all of my planned tasks are over. Foreseeing risks and being able to react is a huge part of project management skills and it is handily accompanied by TaskCracker functionality.
Mark, independant marketing guru

Being a big fan of personal productivity tools, Mark is using TaskCracker for Outlook to manage his tasks every day.