Stephen Covey's "The 7 Habits of Highly effective people" and "First Things First" have already become classics of time management. I've been really inspired since I read them myself and the efficiency of the methods suggested by Stephen Covey has been proven more than one time in my own business and life.
For those who haven't had a chance to take a look at those books, the main idea of Stephen Covey's productivity method is simple: the main characteristics of a tasks are its urgency and its importance. In order to be productive, we should be able to tell one from another, and then treat prioritized tasks accordingly.
In order to stop procrastination or, in case you're a lucky guy and you simply don't have it, then in order to speed up your work and get more results out of your actions, you should spend less effort on what seems pretty urgent but isn't important at all. Because those kinds of activities only seem important, in fact, they are only distracting and not moving you to your goals. It's hard to realize it unless you see it visually.
The Urgent\Important matrix was then suggested by Stephen Covey in order to be able to see what's slowing you down, at a glance. This makes it possible to change your own strategy to make your working behavior more productive.
Anyways, the two books are definitely worth reading, so I won't tell you all the interesting facts and tips they give for daily productivity, feel free to discover them yourself. Here is another problem: Stephen Covey's method has been formulated more than 20 years ago, and we've been using Outlook for task management since 1997. And what's striking me is that for all this time, we haven't seen an attempt to unite the main task management tool with the main time management and productivity method. I mean we've never had it in the form of a software solution, an extension which could simply present your Outlook tasks in the form of Stephen Covey's matrix. Google Steven Covey for Outlook – what software do you find? None.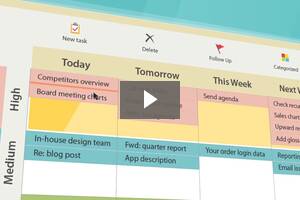 It's been true until recently, because now we finally have TaskCracker. It's a small add-in which installs pretty quickly and is light enough not to slow down your Outlook. On the contrary, it can significantly speed up your work. After you install the application, you can see all of your tasks in the form of a visual matrix and move them around in order to better prioritize your activities. When you move a task to another cell of the matrix, it automatically get the new priority and deadline. With the visual TaskCracker matrix, you can see your tasks and priorities at a glance, which is incomparably more efficient for goal-setting rather than any standard list view.
When you're trying to complete numerous urgent tasks that don't give any value to your activity, because they are simply not important, you start procrastinating even though it seems like you're busy all the time. Stephen Covey's time management method drags you out of this vicious circle. And the TaskCracker extension for Outlook enables you to put Stephen Covey's productivity principals into life, right now, instead of waiting for a better day when you finish all of those important but useless tasks and start doing what really matters. Don't wait. Just find out what really matters, what will move you to your goals, and what prevents you from moving there where you want to come.
So simply don't wait for a better day and download your free 30-day trial of the TaskCracker productivity solution for Outlook right now!
Mark, independant marketing guru

Being a big fan of personal productivity tools, Mark is using TaskCracker for Outlook to manage his tasks every day.