Facts
According to AlternativeTo website Todoist has over 100 alternatives
Googling "task management add-in for outlook" provides over 4 mln results
There is only one visual task management add-in for corporate use with Outlook so far
Intro
Let's fairly say, there is no 100% alternative to any software. Even if it seems like there is one, in fact, you always have some discrepancy in the features lists. Neither TaskCracker is a complete alternative to Todoist Outlook, as well as most of other 107 alternatives suggested on AlternativeTo. Yet, there are 3 key issues where the two software masterpieces compete and it's up to you to make your choice. Here's a brief features list comparison in this entry.
Visual Matrix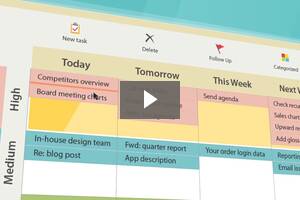 TaskCracker underpinning philosophy is embodied in its visual matrix that remains to be unique so far.
At present, neither Todoist Outlook nor any other Outlook add-in for task management offers this functionality the way TaskCracker does.
While Todoist provides tasks in the form of a list which can be sorted and prioritized the same way you do it with any other Outlook view, the visual component is 100% win for those who perceive data easier when its presented visually (about 94% earth population).
Data Security 1: Delete your add-in, keep your tasks
As it is the case with all online solutions, when the time comes you want to remove your online account, you have to know that all data is not necessary deleted – complete deletion can be prohibited, for example, by terms and conditions or local laws. Basically, Todoist is a sort of Cloud solution that can be synchronized to your Outlook which, in its turn, can be against your corporate policy. On the contrary, TaskCracker add-in works with your native Outlook tasks and TaskCracker team does not have online access to your tasks. This has two important conclusions for TaskCracker users:
when you permanently delete your Outlook tasks, you do delete them forever
when you remove your TaskCracker account, you keep all your tasks
Data Security 2: Offline work
Online Cloud solutions, like Todoist, need you to be connected to the web. For bank workers and suchlike this is not an option due to corporate policy aimed at data protection. In this case, does this mean that you have to forget about any kind of Outlook extensions that make your work more productive?
Not at all. While Todoist is a nice tool for online collaborative work outside corporate boundaries, TaskCracker is a great corporate tool designed specially for Outlook users and it can be used offline for prioritizing tasks on the visual map of your week.
Verdict
If you are looking for online collaborative work outside your corporate firewall, and you need to synchronize it with your Outlook, Todoist Outlook may be your choice. As it is the case with any public online solution, your data is provided to 3rd party online with all the online benefits and disadvantages that usually accompany public Cloud situation. This may be prohibited by your corporate policy for corporate security reasons.
If you are looking for a corporate tool that can be used inside corporate firewall and lets you keep your data even if you do not stick to the solution, TaskCracker is your choice for visual task management optimization and personal productivity growth.
Anastasia Chumakova, independant marketing guru

With more than 3 years of background in the product and project management area, she's familiar with most business optimisation systems and productivity techniques. Don't hesitate to ask your questions or provide feedback via G+ with the #TaskCracker hashtag.