We all get tons of emails. Although there are some useful tools for coping with this flow, such as color coding and follow-ups inside Outlook itself, they are not always helpful enough. The problem is that when the amount of emails is really huge, these tools do not help at all. Follow-ups turn red one after another and sooner or later you are facing a red list full of alerts – simply because you don't have enough time to deal with everything.
Stressful, isn't it? And that's not the problem of time or the amount of work. It's just that plain Outlook task list is not built to help you cope with lots of emails and tasks. This situation only grows worse in our fast and furious business environment. So we have to deal with it and find ourselves better ways to keep being the best, no matter how hard the life is. Good thing is that solution isn't even round the corner, it's in this text!
While Outlook task lists prove to be perfect when you have reasonable amount of correspondence, you need to change your approach to email processing to the core when you have to deal with large amount of tasks and emails. Because in this case you deal with "big data" – well, relatively big for one person, the only thing that can come to the rescue here is strategic planning. One of the best ways to quickly apply strategic planning to your daily agenda is visual approach.
Let's keep in mind that no matter how you deal with your emails and tasks and how you solve the strategic planning issue, it's only preparation for your main activity: you still have to do all this work. That's why the way you achieve strategic planning should be pretty quick as well. That is the case of visual planning. When you have all of your Outlook tasks laid out before you in the form of a visual map, your eye catches the gaps and the overloads in planning within seconds – that's psychology, the way our brain works. You don't need to apply complicated techniques to see that, e.g. your "urgent tasks for today" cell is overcrowded while your "important long-term tasks" cell is half empty.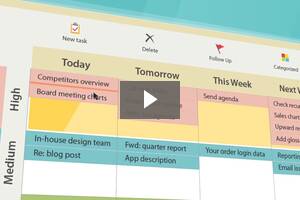 Visual representation of your Outlook tasks opens up your eyes indeed – the thing a plain list of tasks could never provide you. At the same time, it quickly reveals any weak points in your strategic planning, like when you have all of the tasks urgent and important at the same time – which contradicts basic task management rules, and remains undiscovered when you look at a task list.
Would you like to see the tasks that are currently being on your Outlook list in the form of a visual map right away? Nothing could be easier: TaskCracker installation takes less than 60 seconds and it's free for 30 days. It doesn't disturb Outlook work, it simply enables you to visually represent and re-organize your tasks. Awesome! In case you fall in love with this neat and useful application, like I did, simply keep it in mind that it costs just $39.95. And it's not a subscription you have to pay once a year, a lifetime license. And if you allow this word game to me – a lifetime license for having more lifetime instead of getting stuck in your inbox. Try it now.
Afterall, if corporate standards oblige you to use Outlook for planning does it mean you cannot have the privilege of colorful and neat visual task planning application for work tasks? Not at all. You can apply visual techniques to your work strategy which provides significant productivity raise. And this means – more time on doing what you want instead of a mess of tasks you have to do and don't know where to start with.
With TaskCracker you can spend more time thinking of more pleasant things while your work tasks and emails can be wisely organized at a glance.
Anastasia Chumakova, independant marketing guru

With more than 3 years of background in the product and project management area, she's familiar with most business optimisation systems and productivity techniques. Don't hesitate to ask your questions or provide feedback via G+ with the #TaskCracker hashtag.