Do you know you can use Outlook in scheduling and maintaining a number of tasks besides managing emails and tracking calendar? Outlook is on its way to integrate within itself a collection of features that are beyond email and calendar tracking.
However, many businesses are still deprived of the benefits of features especially designed for facilitating the businesses handling numerous projects and need better time management. If you are still not using Outlook to manage tasks, consider making it your business companion for effective task management.
Every day you get 86,400 seconds. By using Outlook you can make the most of your time, but you also have to think out of the box and come up with new approaches to manage your projects and deadlines, especially when email can be a source of huge waste of time. Normally, emails take a lot of time when you want to increase the efficiency of Outlook. So, the right approach is:
Practice the Two Minute Rule for email
You can go for limiting the time you spend daily on your emails. Allot a one or two fixed time for checking and replying emails. You can turn your desktop alerts off, which pings you whenever a new email knocks your inbox. Thus in this way the time you saved, could be spent to concentrate on projects and whenever you check emails, try to be as selective as possible.
If you think two minutes are enough to be spent on your inbox, then it is fine. However, if you think more time is required, then move the messages to pending folder to be checked later. This way you can reduce the interruptions while working on projects and enhance your project and time management, but set a reminder alerting you for checking the pending folder, at the end of the day.
What can Outlook do in this regard
Outlook offers "Tasks and To-Do Lists" feature. As mentioned before, if any of your email requires your response or some action, you can utilize this feature: click "Follow-up" and the email will be shown along with other tasks in your To-Do List. Just go through this list from time to time and decide on what you should be doing next.
Outlook tasks feature is really a great one to keep your actions on track. It works perfectly when you have small number of tasks. But when you are a manager, stream of emails can be just too intense for this simple method. What can you do in this situation…?
Make your Outlook tasks visual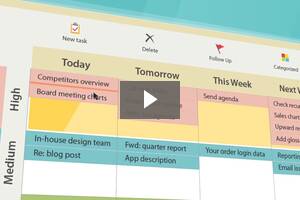 If you have a lot of things to do and keep on track, outlook tasks management approach based on visual Urgency/Importance matrix can be really useful for you.
Using such approach, you get a perfect bird-eye view on all your activities. You can use such approach with handy outlook tasks addin called TaskCracker for Outlook. It shows tasks in Outlook on a visual board so you can manage them using drag-and-drop.
Mark, independant marketing guru

Being a big fan of personal productivity tools, Mark is using TaskCracker for Outlook to manage his tasks every day.